Boosting female representation can help close the leadership talent gap.
Companies throughout the world feel the pressing need for more effective global leadership. Studies show organizations do not have the global leaders needed to keep up with the speed of business, nor are they satisfied with the quality of their leaders. In short, they do not have current leadership or the bench strength to meet future business needs.
One way for learning leaders to help close this gap is to include more women more quickly in leadership roles. Yet, this is not happening to the extent required to meet demand.
While the number of female CEOs at Fortune 500 companies is rising, they still only constitute 5.4 percent. A recent study by Grant Thornton, "Women in Business: Turning Promise Into Practice," showed that one-third of global businesses had no women in senior management roles as of 2017 and that this had not changed since 2011.
A 2016 comprehensive study by Mercer, "When Women Thrive, Businesses Thrive," showed that women make up only 35 percent of the average company's workforce at the professional level and above and that female representation declines as career level rises.
How can CLOs help leaders — both male and female — develop at a deeper level, personalized to their specific needs?
Additionally, a 2012 McKinsey & Co. article, "The Global Gender Agenda," reported that, "While the vast majority of organizations in developed economies are striving to unlock the potential of women in the workforce, many executives remain frustrated they have not made more immediate and substantial progress."
One obstacle to this progress may be the assumption that women do not have the same level of competency as men in leading across cultures. According to the Mercer study, "Leadership competencies are often more closely aligned with the relative strengths of men than women."
What follows is strong evidence disputing this global leadership competency assumption.
Global Leadership Competencies That Matter Most
In 2014, my organization, Tucker International, published a peer-reviewed study of 1,880 global leaders representing nine nationalities titled "Leading Across Cultures in the Human Age: An Empirical Investigation of Intercultural Competency Among Global Leaders." One-third of these leaders were women. Nationalities included American, Australian, Belgian, British, Canadian, Chinese, French, German and Indian. These leaders were screened to only include those with top executive responsibility for their organizations; profit and loss responsibility; and responsibility for a group of businesses or top executive responsibility for their business function.
Global leadership success among these leaders was measured by their ability to drive performance, build team effectiveness and network globally. A set of nine intercultural competencies were measured, which successfully predicted leadership success over time. These competencies were grouped into three broad categories — world view, situational approach and social/interpersonal style.
World View
Open-Mindedness: Being receptive to and nonjudgmental of the ideas and ways of other countries, cultures and ethnic groups and demonstrating respect for diverse spiritual and political beliefs.
Lifetime Learning: A pattern of learning over time, including reading newspapers and periodicals (in print or electronically), viewing national and international news broadcasts, and attending formal learning sessions.
Situational Approach
Patience: The ability to be patient in the face of unanticipated delays or frustrating situations and with people who do not meet expectations of time.
Even Disposition: The ability to remain calm, exhibit a good sense of humor, not be too critical of oneself and learn from mistakes.
Navigating Ambiguity: The ability to see through vagueness and uncertainty, not become overly frustrated and eventually figure out how things are done. Taking the initiative and leading through difficult situations.
Locus of Control: The belief that one's own actions and abilities play a direct role in the process and outcome of the events in life instead of relying on fate, luck or circumstance. Taking responsibility for actions.
Demonstrating Creativity: Enjoying new challenges, striving for innovative solutions to social and situational issues, and the ability to see around corners, predict outcomes and act despite uncertainty.
Social/Interpersonal Style
Adapting Socially: Being comfortable in new and unfamiliar social settings, seeking out and enjoying diverse groups of people and showing genuine interest in others.
Instilling Trust: Valuing trust, being seen as someone who can be trusted and building trusting relationships. Significance tests were conducted on these competencies between the men and women leaders. Women scored higher than men in Open-Mindedness and Adapting Socially. Men scored higher than women in Even Disposition. There were no differences among scores for the other six competencies.
Based on these results, the argument that women may fall short of the level of global leadership competencies demonstrated by their male counterparts falls flat.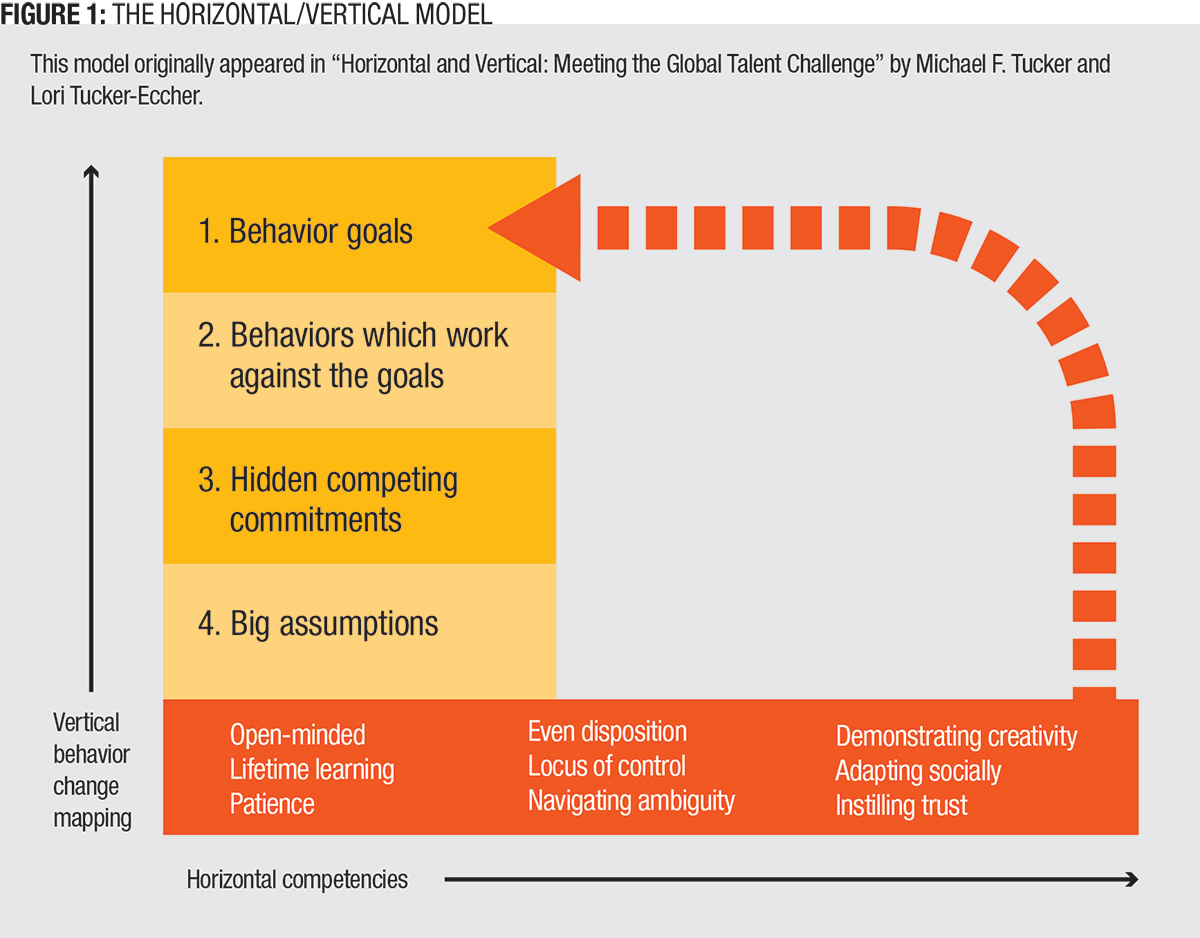 Targeting Select Competencies
How can CLOs help leaders — both male and female — develop at a deeper level, personalized to their specific needs? This often begins with a horizontal competency assessment, where a leader is assessed against specific competencies deemed essential for success. However, horizontal development only goes so far.
Enter vertical behavior change mapping. Once a leader's horizontal competency assessment has been conducted, a behavior change map can be created. The full process is represented by The Horizontal/Vertical Model shown in Figure 1.
Consider the following case study to illustrate how this model works by focusing on the Even Disposition competency.
Adriana, a leader with the European Space Agency, completed an assessment as part of her participation in the International Project Management Program at the Kennedy Space Center. She was surprised to see her score was below the norm on Even Disposition. She had assumed her leadership style, which emphasized technology and achieving project plans on time and on budget, was successful and appreciated by her international team.
Adriana discussed this issue with several close members of her team. They were reluctant to explain how her disposition had negatively affected team effectiveness given her outstanding capabilities in the important technologies of the project. After assuring them that she truly was concerned about how she appeared to them in critical times of urgency, they explained that she sometimes overreacted and showed frustration, which interfered with team effectiveness.
Working with a coach, Adriana created the behavior change map shown in Figure 2.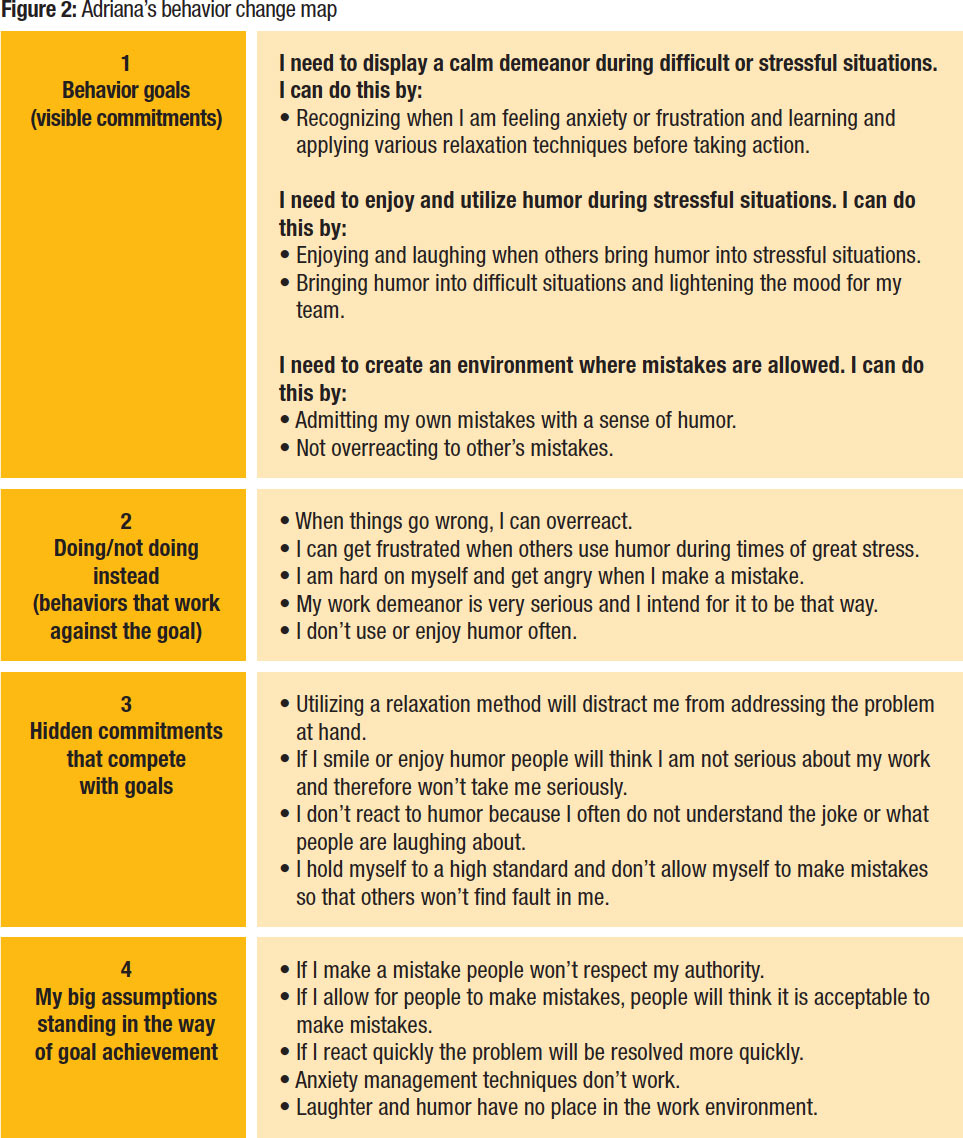 Behavior Change Map: Even Disposition
Successful global leaders can maintain an even disposition under a variety of conditions. In difficult or confusing situations they remain calm, exhibit a good sense of humor and allow for mistakes by themselves and others.
Adriana and her coach confirmed that she was indeed engaged in the behaviors present in row 2. They then decided on the behavior goals listed in row one. However, just listing these goals (as is done in so many other development programs) does not achieve lasting behavior change. Additional steps of mental complexity are required.
Adriana's behavior in row two was being driven by her hidden commitments in row three, and these, in turn, were based on her assumptions in row four. The circular nature of rows two, three and four are what authors Robert Kegan and Lisa Lahey call an "immunity to change."
Immunity was built up over time as Adriana's disruptive style was reinforced by what she thought was consistent with her assumptions and hidden commitments. Only by deep introspection, working through the mapping process and committing to experimenting with the new goals could this immunity be overcome. As these goals were achieved, her assumptions underlying the old behaviors were proven false and the process resulted in a lasting, more even disposition.
Achieving Leadership Roles With a Growth Mindset
This mapping process, preceded by careful measurement of all nine competencies, can help all leaders become more successful in their roles. For organizations striving to unlock the leadership potential of more women in their workforce, the mapping process also can be a useful tool.
Using the Horizontal/Vertical Model gave Adriana the opportunity to develop what author Carol Dweck calls a "growth mindset." A growth mindset is an openness to receiving feedback and engaging in a change process (versus assuming that one's approach is a permanent part of who they are and not being amenable to change — i.e., a fixed mindset).
According to Dweck, "the exciting part is that the growth mindset can be taught." Adriana, for example, was able to move away from a fixed mindset to a growth mindset while simultaneously developing a more even disposition.
Michael F. Tucker is an industrial/organizational psychologist and president and founder of Tucker International. He is the author of assessment and development tools including the GLTAP and Horizontal/Vertical Model. He can be reached at [email protected].